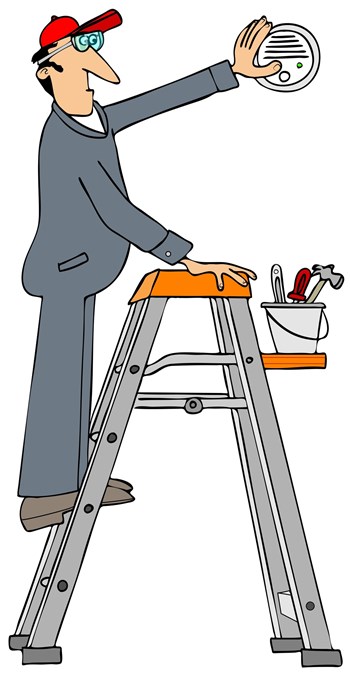 Neither condominium/cooperative property nor homeowners' association runs itself. The day-to-day business therein is carried out by either a board or a property manager of the board's hire, the unit owners/shareholders themselves contribute via their votes and attendance at meetings to how the community is operated, and various vendors are called in to handle specific odd jobs either at routine intervals or when something goes awry. But one of the lesser-sung heroes in all of this rigmarole is the chief engineer, an individual on whom it falls to know the building inside and out, thus best to dispatch their trusty underlings to fix a problem when—or ideally before—it becomes detrimental to the property as a whole.
The chief engineer must have their finger on the pulse of the community, as it falls to them to address issues both in common areas and individual units alike. And a board should know for what to look when hiring such a person, from both a professional and personal standpoint, as it will be leaning on the chief engineer immensely as the two entities work together to maintain a thriving residential environment.
Quality Control
In order to evaluate whether a candidate for chief engineer is a worthy one, a board must anticipate everything that this person will need to do once hired. Not only in regard to cosmetic repairs, but in terms of management, engagement, transparency and routine conduct.
"We look for chief engineers that are problem solvers," says Jim Stoller, president and chief executive officer of The Building Group. "They need to be able to efficiently and succinctly communicate issues to both management and the board of directors. They have to understand building systems, as they operate as the eyes and ears who scout the property, looking for things that are both working well and have the potential to cease functioning. They're not just opening doors—they're people who can see, think and understand building systems."
As building systems evolve and the interface through which one interacts with said systems changes, chief engineers must be able to adapt and grow in turn. "These days more than ever, computer skills are really becoming essential, if this wasn't already so," says Thomas Dobry, director of training for SEIU Local 1—a union representing chief engineers in the Chicago area. "Buildings have incorporated so much tech to the extent that many aspects can be controlled from a laptop or a phone. Because HVAC and boiler systems can be operated remotely, this in some ways makes the job of the chief engineer easier, but it does add another layer of skill set that is now necessary in order to perform the job."
Crew Love
Obviously a chief engineer is not expected to go it alone, especially in a city like Chicago that offers expansive residential high-rises. Much of a chief engineer's job isn't so much the hands-on, hammer-and-nail type stuff one would associate with a handyman, but rather managerial supervision and delegation.
"The staff which a chief engineer oversees varies based on building size and complexity," notes Stoller. "It also depends on the union to which they belong. Local 1 is more cleaning-oriented, while 399 engineers are more focused on repairs and maintenance."
The chief engineer is at the top of the pyramid in regard to maintenance staff, but they themselves are of course beholden to the direction of the board and property management. "Typically the chief engineer reports directly to the property manager, and then the property manager reports to the board," continues Stoller. "It falls to the property manager to take care of a building's systems and all other operations at the property, and thus oversight of the maintenance staff is one component of their responsibility."
According to Dobry, in an average-sized Chicago multi-family property, "a normal set-up would involve a chief engineer managing an assistant engineer, and then two or three maintenance staffers handling work orders throughout the building. This includes basic plumbing and electricity, repairing leaky faucets or faulty outlets and light switches. Then, at the bottom of the period are the cleaners. The average building would need four or five just to keep the property looking nice, and to keep the lobbies and stairwells and and hallways clean, vacuumed and mopped, etc."
Engineering U
As with many real estate-related and -adjacent professions, chief engineers are encouraged to keep expanding their horizons via continued education classes. As Dobry pointed out above, the nature of the job is constantly changing with the advent of tech that renders monitoring a property easier. And that's only but one aspect of the job that can stand further studying and practice.
"Chicago is actually extremely good with offering continued education and issuing certificates," says Stoller. "Both chief engineer unions offer programs and have requirements for continuing education among maintenance and engineering staffs. We encourage professionals to take both the required and further additional courses. We love to see engineers pursue advanced learning, because it's good for both them as individuals and the buildings they represent, and we reward them for it accordingly."
Given the increasing dependence on computer and mobile devices to monitor building systems, it would track that chief engineers were encouraged by their unions, employers and peers to familiarize themselves with the latest tech. "The union offers a computer course in effort to bring members up to a basic skill level and get them comfortable using mobile devices, the internet, email, and things like that," says Dobry.
In fact, Dobry's union has an infrastructure set up to encourage continuing education of multiple stripes. "There's a training fund, similar to how an association will pay into a pension fund or a health fund for its employees. They also pay 11 cents per hour into a training fund, via which members are eligible to come to the training center to get better at their jobs. Computers is, of course, but one of those skills, and we also offer a large menu of other classes, ranging from pest extermination to building evacuation to appliance repair and building automation systems; we have probably about 25 or so new classes each year just to keep chief engineering skills current with the times."
Of course, it's not just a thirst for knowledge that inspires chief engineers to perfect their craft. "The number of certifications which a chief engineer obtains can directly impact their rate of pay," says Richard Holtzman, president of Chicago-based Prairie Shores Management, LLC.
Now Trending
In addition to technological developments, the chief engineer position continues to grow in other ways.
While the industry has been known to skew predominantly toward male candidates and employees – and still does, to some extent—it has grown more inclusive over the past few years. "We've seen women increasingly succeed on maintenance staffs, and we have one building with a female chief engineer," notes Stoller.
"More and more women have been seeking these jobs out," agrees Dobry. "We see it in our two-year training program, which serves as a stepping stone to get candidates to the chief engineer level. More and more are coming along, and we expect those numbers to continue to rise."
And with the increased reliance on electronics to monitor properties, the chief engineer position isn't as physically hands-on as it may have been some years ago. "A lot of what the chief engineer does, especially in the larger buildings, is focused on managing employees and systems; they don't have to fix everything themselves," says Stoller. "The job increasingly mixes both brawn and intelligence."
When it comes to the biggest innovation affecting chief engineers in years though, it all circles back to automation. "Buildings can be run easily via tablet or laptop, and that's changed the way the industry works," explains Dobry. "Engineers don't have to walk the property to check boilers or fans; they can simply look at a screen to see if those things are running properly, and regulate temperature via laptop."
As systems become increasingly automated, the nature of a chief engineer's work is liable to change mightily. But, for the moment, it seems to linger somewhere between the jack-of-all-trades handyman of yesterday and the monitor-watching overseer of tomorrow.
Mike Odenthal is a staff writer for The Chicagoland Cooperator and other publications.