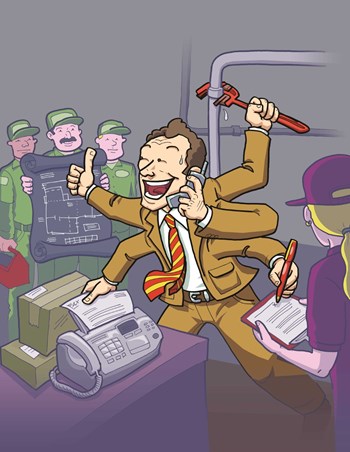 Some property managers fly through their to-do lists with the greatest of ease, while others send you to voicemail. Again. The difference between a serviceable manager and a really great one may not be something they're born with; but many in the industry feel superior management skills can and should be learned. Great managers create results and foster trust in their clients—it can be that simple.
A Little of Everything
Co-op and condo property management may be one of the more multifaceted careers a person can pursue. The list of duties is long and varied—many managers say that they rarely find themselves doing the same thing two days in a row. The tasks before them run the gamut from technical to administrative, long-term strategic to pressing emergency, customer-service related to even therapeutic in nature—after all, property managers work in and around people's homes. Tensions can run high, even on seemingly small jobs.
Property managers may, on any given day, fix a leaky pipe, hire a contractor to plow Chicago's blowing and drifting snow from driveways, pay bills, file paperwork, research the big electrical overhaul that needs to be done before summer, and report all of this to the board. A property manager may sit in on a committee meeting, talk to a lawyer, troubleshoot a bad Internet connection, read board minutes, or post a flyer about a lost dog. It's all in a day's work, if you're a great property manager.
There are hundreds of property management firms in Chicagoland plus plenty of independent managers as well. According to Salary.com, the average salary for a property manager in the U.S. is currently around $80,000. So what makes some of those management professionals worth their weight in gold?
It's a Tough Job But...
Dealing with regulatory bureaucracies like ComEd may be a source of great gnashing of teeth for property managers across the region, but it's actually not the biggest issue for most. When a manager can successfully navigate the waters of the almighty board, you should probably hang onto him or her.