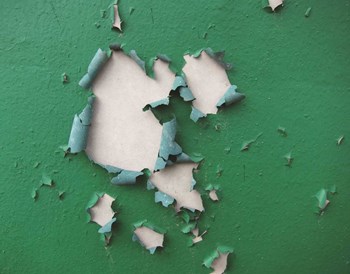 In Chicago,buying a co-op or a condo goes something like this: Your realtor takes you to see your dream home. You put in an offer—along with a bunch of other people. After a ferocious bidding war, your offer is finally accepted. You submit a bunch of very personal documents (in the case of a co-op at least) and settle in for the interminable wait while all that paperwork is reviewed by what seems like a small army of attorneys.
As part of this process, you may or may not choose to have your home inspected. While home inspections are very common in the suburbs, they aren't as typical in apartments. Then you move into your new place and you and your family live happily ever after . . . until you find out that your dream home is filled with invisible hazards that can make you and your children very sick.
Deadly Lead
While some hazards—things like crumbling masonry, cracked sidewalks and deteriorating windows—are visible even to an untrained eye, other dangers are not so obvious. A few are entirely invisible to the eye and they have no smell or taste, but they are still deadly.
Substances like lead, carbon monoxide, mold, radon and asbestos and formaldehyde can permeate a building or unit without anyone knowing until its' too late, and the result can be tragic.
Unfortunately, "The rate of childhood lead poisoning in the city of Chicago is much greater than in the state of Illinois and in the United States," says a spokesperson for the U.S. Environmental Protection Agency [EPA]. "In 2011, the most recent data available from the Illinois Department of Public Health, more than 22 percent of children under the age of six who were tested for lead had EBLL [elevated blood lead levels]. All children under the age of six-years-old are at risk because their growing bodies absorb more lead than adults and their brains and nervous systems are more sensitive to the damaging effects of lead. Also, they may be more highly exposed to lead because they tend to put their hands on objects, which may be contaminated with lead dust, and then put their hands into their mouths."
According to the EPA, lead paint is a common hazard that eventually led to the Lead-Based Paint Disclosure rule, which requires the disclosure of known lead paint and lead-based paint hazards by persons selling or leasing a pre-1978 house. The EPA's Renovation, Repair and Painting (RRP) rule states that real estate agents, landlords, property managers and sellers are required to disclose information on lead-based paint to potential purchasers and renters.
The RRP rule also protects homeowners and tenants from hazardous lead dust that can be left behind after painting, common renovation repair like sanding or replacing windows. It requires that contractors and subcontractors be properly trained and certified, and use lead-safe practices to ensure that lead dust is minimized.
Testing
The only way to be sure if paint contains lead is to have it tested by a qualified professional. Home test kits are not reliable and can't tell if the paint poses a risk.
Some methods of removing lead based paint can actually do more harm than good. For example scraping or powersanding that can create large amounts of lead dust.
According to the EPA, the most common method for testing for lead based paint is to have a Certified lead-based paint inspector or lead-based paint risk assessor conduct a surface-by-surface investigation for lead-based paint. They do this by collecting paint chips for laboratory analysis or by testing painted surfaces with a machine called an X-Ray Fluorescence Analyzer (XRF), which measures the amount of lead in paint.
According to experts lead can also be found in drinking water because lead pipes were common in United States residences prior to the 1970s. Depending on the pipes themselves and the corrosiveness of the water—if it's soft water—professionals would test the chemical parameters of the water. If it's corrosive, it could lead to lead being released into the water. Also, if the water pipes aren't properly grounded, it can accentuate the corrosion of the pipes, again increasing the lead content.
Other Culprits
Lead's not the only problem lurking within Chicago's walls and pipes. Radon is a colorless, odorless, tasteless radioactive gas that comes from the decay of naturally-occurring uranium in the soil. Radon is the second-leading cause of lung cancer in the U.S. and the leading cause among non-smokers.
According to the Illinois Emergency Management Agency (IEMA), radon tests from 16,712 homes in the Cook County area (including Chicago) found that more than 24 percent had radon levels above the U.S. EPA recommended action level. Information on tests conducted by professional radon measurement contractors by county and zip codes is available on IEMA's radon website at www.radon.illinois.gov.
Mold is also very common in Chicago homes. Mold grows on wet or damp surfaces such as basements, showers and around plumbing fixtures. Prolonged exposure to high levels of mold can result in reduced lung function in an otherwise healthy adult and individuals with asthma are particularly sensitive to mold.
According to experts if you take care of mold immediately, it's not going to be a major issue, and it won't be an expensive solution. It's also something that anyone can take care of without calling in a professional—as long as they catch the mold when it first enters their home. If you have mold contamination, simply sanitize the area using a diluted non-scented bleach solution.
Asbestos is one problem, however, that's not going to go away with a little bleach and some water. Asbestos was a frequently used building material in the U.S. throughout the 1900's. It was banned in 1978 after it was discovered that asbestos exposure was linked to cancer. However, since the sale of existing asbestos materials was not banned, houses and buildings built much later may contain asbestos.
According to environmental experts in Chicagoland, asbestos is often found in floor tile, ceiling tile, popcorn ceilings, piping insulation and HVAC ducts.
"Just about every house in Chicago has some issue with toxins," says Don Gors, president of Chicago Diversified Projects Inc., an environmental consulting company in Chicago. "Whether it be mold, asbestos or lead. Most of these substances will infiltrate a building because of poor maintenance over the years on the envelope of the building. For example, if you don't follow up on roof issues or sunp pump issues in crawl spaces." problems could develop, he says.
New Construction Concerns
Ted Salgado is principal owner of Reserve Advisors, the nation's largest provider of reserve studies and analysis, which has an office in Chicago. He points out that "increasingly residential construction of multi-unit communities is done on reclaimed land. Even a major haz-mat site may be cleaned up and pollutants mitigated and approved for new construction. We had a client in the Midwest where the condo project was built on top of an old coal storage area. Even though the site was capped off, it was never completely remediated. Oftentimes, the developers who build new residential communities don't have expertise in environmental issues."
He explains that municipalities are often eager to infill abandoned industrial sites and brownfields and create affordable housing. "A redevelopment authority working for a city can get away with more [inside stepping regulations] than a private developer," Salgado says. "In a similar case about six years ago, a riverfront property, the site of a former tannery, was 'reclaimed' with construction of about 100 condo units."
Problems may be revealed, he notes, "When a savvy buyer will ask to do testing beyond just the unit inspection. For anyone who is concerned, we advise 'Look for disclosures that run with the property. Something like coalfield is a disclosure that's attached to the property title.' Potential buyers should make their offers contingent on seeing all these documents. Plus, for added disclosure, it's wise to look at an association's annual meeting minutes for a year going back. This will reveal any environmental problems that occurred in common areas."
Lead, mold and other toxins are a complicated, scary issue for homeowners, boards and renters. But there are many resources available. Boards, managers and residents can check out www.EPA.gov/iaq to get detailed information about many different indoor air issues.
Individuals who believe that contaminants in their home are contributing to health problems in their children can also contact a Pediatric Environmental Health Specialty Unit (PEHSU) free of charge. These health units were created to ensure that children and communities have access to special medical knowledge and resources for children faced with a health risk due to a natural or man-made environmental hazard. To reach a Chicago area PEHSU, call (312) 864-5526 or go to www.aoes.org/PEHSU.
Danielle Braff is a freelance writer and a frequent contributor to The Chicagoland Cooperator.