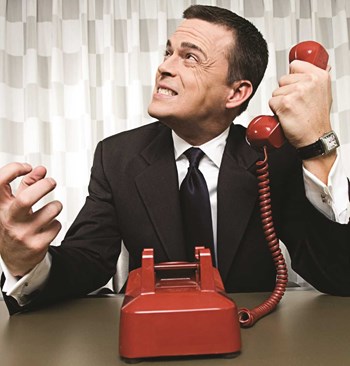 Someone once said, "People who say that small things don't bother them have never tried to sleep in a room with a mosquito."
The truth is that there are little irritations—otherwise known as pet peeves—about a job, relationship, or other parts of life that bother everyone at one time or other. It's no different in the property management industry. If you talk to enough managers or residents in the region's co-op/condo buildings, you'll start to hear similar tales of frustration, both chronic and acute: boards who won't return phone calls (or those who call constantly for every little thing), long-running feuds between residents that divide entire communities, simple maintenance issues that turn into legal/ financial/logistical nightmares through poor communication or procrastination...the list is long, and most property managers can relate to their colleagues' grievances.
Private Peeves
However, while not all property managers want to vent their pet peeves—for obvious reasons—others are eager to share, but prefer to stay anonymous when doing so. Interestingly though, there was a common sentiment among the managers we spoke with—they feel like they have something in common with legendary comedian Rodney Dangerfield: they get no respect.
Some of that has to do with job description. "There's sometimes a general sense [among some real estate brokers] that we're there to do their job," says Sandy Albecker of Enlan Condo Management in Chicago. "It's a breakdown in communication. We are there to give good service—including to the broker—but some think we do certain types of work when we actually don't."
Albecker's other pet peeve is having to orientate rental subtenants—again he says, it's the unit owner's job to do that. "Some investors rent out their unit and expects the management company to tell their tenant everything," he says. "I received a call from a friend of one landlord who's out of town asking for information on how the Internet works. That really should be something that the landlord does. They have the information."
Criers, Mutes & Manipulators
Albecker and other managers in the Chicago area might be comforted to know that property managers across the nation often share the same peeves as those right here in Chicago. Kimberly Smith, broker for AvenueWest Global Franchise in Littleton, Colorado, agrees with Albecker that most things come down to communication (or the breakdown thereof), and property management is no exception.
"My experience has shown me that these pet peeves can generally be avoided by setting expectations up front, establishing quality lines of communication, and delivering the tenant these ideas in writing so there is no room for confusion or forgetfulness," she says.
She breaks down her personal peeves into three categories: 'criers', 'mutes' and 'manipulators'. Criers are residents who have a problem with a policy or some other issue, but rather than communicating their needs directly opt to grouse and grumble to whomever happens to be within earshot. "In reality if they just asked nicely, most of these issues could easily be resolved without the drama," says Smith.
Mutes are those tenants who say nothing at all, but are really unhappy about an item that could have been addressed if they had taken the time to mention the item. "Don't pine in silence; let the property manager know what you need," she says.
And finally, there are the manipulators—those tenants who try and work the system to get stuff for free, or get more than their fair share. "Think about the movies when a down-and-out guy brings a bug into the restaurant and plants it in his salad to avoid paying the bill," she says. That's the manipulator's approach to life in a condo or HOA.
Renter's Chill
Another perpetual thorn in managers' collective sides is the "entitled renter." Smith says just because someone is renting an apartment in a condo building does not give them all the rights and rewards of the property owner. "Understand the big picture and the bigger cost before you become liable for more expenses than you anticipated," she says. "For example, a tenant recently arrived at a vacation rental property that they had 'won' in a silent charity auction. The renter was told the hot tub was not currently open. Not one to miss out on what they wanted, they contacted the local spa man and paid for him to come and fill the hot tub. Yes, the renter paid the spa man for his time, but they had now also just doubled the unit owner's water bill and their electric bill, and once the renter left, there was no one at the property to continue the necessary weekly maintenance on the hot tub. All of this was on top of the fact that the tub had been winterized at the cost of $300—which now needed to be re-done."
In New York City, Enid Hamelin, director of Lawrence Properties talked to her managers about their pet peeves. "The general sentiment among those managers I spoke with is that people don't realize how hard working the managing agent is," says Hamelin, who was also on the board at her own building. "If they are a good agent and the work is seamless they are taken for granted. The job is 24/7 and managers have to be available for anything that might come up. It's important that people realize that this job requires dedication and a special person who can do it. They put their families on the back burner."
Who You Gonna Call?
One of a management company's most important responsibilities is to be there when something goes wrong — but that doesn't necessarily mean that a building or association manager needs to be on-the-spot for every minor mishap.
So herein lies the rub. One of the most frustrating manager pet peeves is that managers are perceived to be always on call and reachable 24/7. Granted, property management is a service business. Trying to please everyone in your community can be tough, puts a strain on the relationship and can lead to manager burnout. Sometimes board members and residents alike forget that their property manager can't (and shouldn't) try to do everything and be everywhere.
"Some residents feel that the management company works directly for them, as opposed to their board or the organization that they belong to, and they will call every day," says James Connolly, a Massachusetts-based property manager. "Past a certain point, we will let them know that they can't be calling every day. If they have issues, they can put them in writing and we will be happy to address them when the appropriate time comes."
Although there are no exact written guidelines, common sense usually dictates what is the right time and the wrong time to call your property manager. According to the pros, building residents need to learn how to control their impulses to reach for the phone at every turn and understand what instances require fast attention.
When it comes to behaviors, Mark B. Levine, RAM and vice president of Excel Bradshaw Management Group in New York City says that many issues that his managers deal with (Board members and residents alike) include handling the expectation of timing and issue resolution. "Unless a building has a full-time Manager on site, there is most likely a portfolio manager servicing the property, managing a few buildings at a time," says Levine. "When issues arise, unless they are an emergency situation, the property manager will need time to assess the situation, contact the appropriate parties (or decision makers) and work to resolve the issue. Although we are in touch with the party who is making the complaint or request for repair from the beginning, there is an expectation that all issues should be solved immediately. Due to the nature of working with many cogs in the wheel, this is unlikely most times."
Another example of a pet peeve comes by a resident's sense of entitlement. "For example, on manager said the residents will redo their kitchen and not submit any papers to the board," says Hamelin. "They'll get a phone call because there is a crew at the unit to dismantle the kitchen, but people take things in their own hands and don't follow the rules."
Hamelin is quick to explain that managers might have pet peeves, but they understand that dealing with their complaints is just part of their job. "Another manager said their pet peeve is when they have to handle two neighbors who are complaining to each other, but that's their job," she says. "If they are handling noise complaints they go to the proper authorities to do so, but again that's what their job is. Their biggest pet peeve is when they think that others aren't realizing what they do, the commitment and how hard they work. They are the front line and urban warriors."
Simple Solutions
Albecker says the essence of the problem is that when units are turned over every year, new tenants need orientation. Although it is frustrating to provide information to tenants that the landlord should be supplying, Albecker doesn't believe there is a solution to the problem other than to create a booklet of information to hand out to tenants when asked.
Hamelin says that someone will have an 'aha' moment to see how hard the managers are working. "It happens," she says. "When you do your job well, someone will compliment you on your job. When you know you've done a good job, some will get it."
There are going to be bumps and bruises—and more pet peeves—along the way in the life of a property manager. However, most come with solutions, most importantly communication, that can prevent these from happening again.
Lisa Iannucci is a freelance writer and a frequent contributor to The Chicagoland Cooperator.