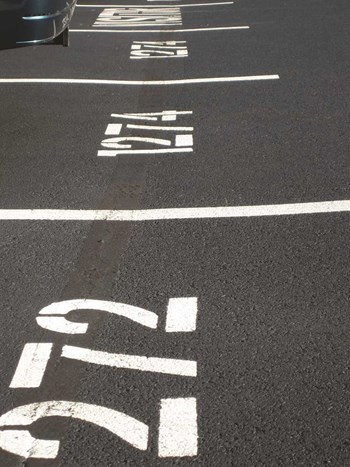 It's 6 pm. on a Tuesday night when the Chicago Cubs are in town and it's game night in Lakeview's Wrigleyville neighborhood—just streets away from where the beloved Cubs play at Wrigley Field.
Parking throughout most of Wrigleyville here is zoned, so it is impossible to find street parking anywhere unless you've got the magic zoned parking sticker, and all the available lots have hiked up their prices because of the game.
Wrigleyville, however, isn't the only Chicago neighborhood that's got its share of parking problems.
In 2008, amidst much controversy which still exists to this day, former Mayor Richard Daley convinced the Chicago City Council to sell 75 years worth of parking meter revenue to a private contractor for a whopping $1.5 billion. But the contractor went ahead and raised meter prices to as much as $4 per hour in many hot spots such as downtown, which makes parking an even more controversial and expensive commodity.
That's why it's so important for those who live in condos in this neighborhood—and many others like this in Chicago—to provide an option for parking.
Parking, Please!
In a city as crowded and as fast-paced as Chicago, parking is a big deal. It's hard to find it when you need it, and when you do find it, it's usually very expensive.
Monthly parking lot rates can top $300 per month in a desired location, and spots on Craigslist and on other online retailers can sell for up to $40,000. The most coveted spots are in indoor, above or below-ground heated garages with parking attendants, in prime locations, such as close to Wrigley Field, Soldier Field, the Loop or near a big condo building that doesn't provide its own parking.
Given the hot commodity that parking spaces represent in the city, it's not surprising that many condo buildings operate their own parking facilities, both as an amenity for residents, and as a source of revenue.
But regardless of whether the facility is underneath the building, above it, a few blocks away or adjacent to it, there's more to running a parking garage than just painting some stripes on the pavement and watching the cash roll in. There's a lot of work involved. Management, allocation of spaces, and facility security and maintenance are just some of the considerations that must be taken into account.
The actual percentage of condo buildings in Chicago which own underground or adjacent parking is unknown and untracked, but most condo buildings own or lease parking to meet tenant expectations and needs, says John Dorsett, senior vice president and director of consulting resources at Walker Parking Consultants, the largest parking consultation and parking design firm in the world, with an office in downtown Chicago.
That's because most people won't consider purchasing or renting a unit without parking.
The major problem according to Mary Coursey, a spokesperson for LAZ Parking, is that, "Many of the older buildings in Chicago do not have parking associated or have had to rent in nearby garages and facilities." LAZ Parking operates seven condo or co-op garages in Chicago. She says, "Newer construction has a high percentage, [of residents that have parking spaces] if not 100 percent due to city of Chicago zoning requirements. Of those buildings that do have parking, a high percentage own their own garage, where a few have actually carved the garage out as a separate unit in the building and sold them to private owners."
"It's much more difficult to sell or rent a home without parking," but it's not always necessary, says Kirk Nortridge, general manager of Field Harbor Parking Condominiums in Chicago.
It's not always necessary because if residents don't have ready access to parking, they can sometimes find it elsewhere. Nortridge's Field Harbor Parking Condominiums garage, for example, offers parking in their facility that's not affiliated with any given building.
"We don't have formal agreements, but a lot of people from area buildings send people over here," Nortridge says. They charge $175 per month and they do 12-month leases. Currently, they are 85 percent full.
There are other rental lots, but many of them are above ground—which is fine in the spring, summer and fall months—but isn't too great in the winter, when most commuters probably don't want to hike through the snow to get to their cars, which will then need to be shoveled off before they can drive. Also, the frigid temperatures aren't very good for the cars themselves, so it would be difficult to find people willing to shell out their hard-earned cash to keep their vehicles outdoors permanently in the winter months in Chicago.
Keep It In-House
Most buildings, however, have their own self-contained and self-managed lots—and many of these also have heated garages, which attract even more tenants who are willing to pay extra to live in those buildings. The key to doing this correctly—making sure the residents are happy, the building is making money and everything is running smoothly—is the management of the garage.
There are a few ways to set up the garage management, Dorsett says.
"Since parking is at a premium in the city, owners use a variety of methods to reserve parking spaces for their intended users and/or limit access to less desirable users," he says.
One way of controlling access is through automated gates and card readers. Visitors can gain parking privileges by entering a code into a call system or phoning the tenant who can then provide a code required for entry, Dorsett says. Another method is to issue and require that vehicles display parking permits—these could be decals or hang-tags. But buildings need to always think about costs. Parking permits require parking enforcement, which is typically more expensive than an automated facility.
"Therefore, an automated access control system is likely the most practical approach for a residential building," Dorsett says.
Once that's set up, the building needs to think about who collects the money from the lot users and how that money is turned over to the building.
Typically, Dorsett says, residential parking is access-controlled through automated parking gates and card readers. As a condition of possessing a parking facility access card, the cardholder is expected to pay a monthly parking lease fee. The parking lease is collected from the building owner or from a commercial parking operator who is working under contract with the building owner.
That's for rental buildings. In condos, where units are owned outright, the garage spots are usually owned as well because they are sold in conjunction with the unit or at an additional cost at the time of the unit's purchase. Currently, the going rate for a garage space in Chicago is around $25,000-$40,000 depending on the neighborhood. Usually, the spot is assigned with the unit.
Residents must remember that they have to pay taxes on the garage spots as well. For a $20,000 garage space, they may have to pay about $180 annually in garage taxes. The taxes can vary, however, and there's not a lot of rhyme or reason to who pays how much, and for what. Another garage space, which may be valued at $26,000, will have to pay about $824 in taxes, plus an additional $76 in assessments, according to www.ParkingBroker.com.
In rentals, the parking spots are set up slightly differently, Dorsett says.
"Some buildings reserve individual parking spaces for individual users. Other buildings simply sell a 'hunting license,' which means first come, first served," he says.
In either case, residents are always concerned about having sufficient access to their residence, and this often means somewhere to park. Therefore, landlords are sensitive to providing sufficient parking, and parking that is in line with other residential properties with which the landlord competes.
Money for Nothing?
Parking obviously brings in big revenue for a building, regardless of whether the unit is a rental or not, but, like all real estate in the Windy City, everything fluctuates depending on the location.
"Parking facility revenues vary significantly depending on several factors, including facility capacity, the parking rate, the parking space occupancy and the number of times the parking turns over," Dorsett says.
A 200-space parking garage could generate $360,000 per year, assuming that 200 monthly leases are sold for 12 months, at $150 per lease. A 500-space garage charging $250 per month for 12 months could generate $750,000 annually, assuming a 50 percent occupancy rate.
It's not all profit, however, though the numbers do look very good.
Parking garage spaces in particular cost significant dollars to maintain, Dorsett says. There's also the issue of storing all the cars, since they do take up a lot of space, and space in Chicago is limited—which is part of the whole problem in the first place.
"This is a cost that can be passed along to the tenant in the form of a maintenance fee," Dorsett says. "We would not be surprised if this fee were $75 or more annually for each parking space," he says.
With or without the maintenance fee, however, buildings rarely sell their parking facilities. The biggest reason is because the parking facilities tend to be directly under the building or attached to the building. Most people living in Chicago expect to have a parking spot with their unit. It's very rare to sell a condo without at least one parking spot, and it's somewhat rare to rent out a unit without offering a spot. So if a building were to sell its parking facility, it would be doing the entire building a huge disservice.
A more common, yet still uncommon scenario would be if a homeowner were to sell or to rent out his or her space. On www.ParkingBroker.com, the website makes it easy to find a parking spot to rent, sell or buy in the Windy City. It's simple to navigate, and it even tells you the level in the garage where your car will be located.
Whether you're fortunate enough to have your own warm, secure, designated spot in your condo's adjacent garage or whether you're one of those frustrated souls driving around, and around and around Wrigleyville just before game time, there's no doubt that parking in Chicago is not for the faint of heart.
Danielle Braff is a freelance writer and a frequent contributor to The Chicagoland Cooperator.