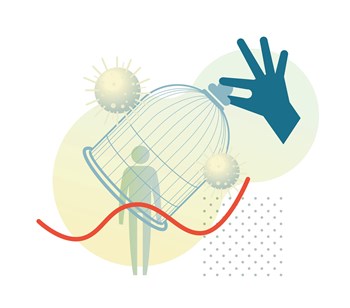 After two years of disruption, isolation, and loss, it appears that the pandemic is finally on the wane. And while the ultimate psychosocial and physical impact of the pandemic remains far-reaching and to a great extent unknown, everyone has long been eager to return to a sense of normalcy. This includes condo and HOA residents of course; according to management companies and boards, vaxxed-and-boosted residents in general feel more comfortable shaking hands, giving hugs and participating in community activities than they have in a very long time. That's good news all round—though it still may take some effort to shake off the months of isolating and social distancing, restart social programming, and get people engaged again.
What's Changed—and What Hasn't
"At this time the great majority, if not all of the properties we manage, are no longer implementing masking policies," says Mark Durakovic, principal at the Chicago-based Kass Management Services, Inc. The company manages over 9,000 units across approximately 150 properties in the Chicagoland area,4,500 of which are condos.
"We manage HOAs, residential rental, and commercial properties, so we are on all sides of the spectrum, and the great majority of amenity spaces are back to pre-pandemic use with some new best practices being adhered to," he says. For example, he says that many properties offer disinfectant wipes in their common areas, which wasn't a norm prior to 2020.
Another pandemic-prompted change that's likely here to stay is the use of video conferencing for board meetings, which Durakovic views as a "new norm"—and a positive one, when it comes to getting residents involved in the governance and everyday operation of their associations.
"We've seen a significant uptick in unit owner and board member participation" since meetings went virtual out of necessity in 2020, he says. "This has improved associations' ability to have open dialogue, and helped them understand what key action/agenda items need to be addressed in the future. Video conferencing has made it more convenient for everyone—myself included—and has resulted in a lot of improvement in the organizational structure of associations."
On the East Coast, while the Centers for Disease Control and Prevention (CDC) made mask wearing and social distancing optional in most settings in March 2022, certain properties—including a great many co-ops, condos, and HOAs in New York and New Jersey—have asked residents to remain vigilant.
"As management, we comply 100 percent with CDC and City guidelines," says Rashaad Middleton, director of management for New York City-based R.E.M. Residential. He adds that even though a large majority of residents are vaccinated, many younger children are not, and older residents may have existing health issues that still put them at risk for serious COVID complications.
"The city is pretty much lifting all mandates," says Middleton, "but at R.E.M. we encourage residents to please continue to wear their mask, and continue to practice social distancing, like limiting elevator capacity to two people at most, unless they're members of the same household—things of this nature."
Another sign of a return to normalcy occurred in early September of this year, when New York Governor Kathy Hochul lifted the mask mandate statewide for New York City's Metropolitan Transportation Authority, for-hire vehicles like taxis and Ubers, airports, homeless shelters, correctional facilities, and detention centers (although masking is still required in adult care facilities).Even though many—if not most—residents have been maskless for months, regardless of their stance on the issue, getting the state-level greenlight to do so is likely to encourage more folks to get out, interact more in person, and perhaps get involved in a committee, a club, or some other social opportunity at their building or HOA.
Slowly Bringing People Back Together
On the Gold Coast of New Jersey, Taylor Management's regional vice president Larry Rada says the company also follows guidance from the CDC, the World Health Organization, and state mandates. But he notes that as regulations sunset, residents are gradually returning to in-person activities.
"With swimming pools, last year was a test, because you had to have a pool ambassador who took note of who was coming in, in case someone had COVID and you had to track it back and let people know they might need to get tested," says Rada. "This year we are not doing that. We are asking residents to be smart; if you feel a symptom, stay away. And this year a lot of people are vaccinated, so more people are comfortable."
During the height of the pandemic, Rada explains that his company worked closely with the boards of client communities to offer ways for residents to stay connected, including virtual Disney programming for kids and remote yoga classes for adults. As he looks past the summer and into fall of 2022, he says computer screens will be nixed as many boards and committees return to in-person meetings. Additionally, seasonal in-person community activities are being planned.
"We are opening up more than we did last year, but is it a return to 100 percent normalcy? This is in effect a new normal, and I think this is how we will be from now on," he says.
For the properties Middleton manages in New York City, there isn't a great deal of common space, which makes it difficult—and potentially risky—for neighbors to congregate. Nevertheless, he notes that change is slowly occurring.
"One of my co-ops down in SoHo would traditionally do their annual meeting at a church or synagogue, and they are hoping to do that again," he says. "I think people are ready to see their neighbors again on a more joyous occasion, rather than being told what they can and can't do."
Board Member Perspectives
Middleton, Rada and Durakovic praised board members, many of whom spent the last two years keeping fellow residents safe while trying to strike a peaceful balance between caution and community cohesion. But these were extremely trying times—to the point that some board members called it quits.
"The first year, when all the common areas were closed, a lot of residents challenged the decisions the boards were making," says Rada, "but they didn't understand the exposure the board would have with insurance regulations" had they opened those spaces up for use. He adds that some of the backlash was political, with residents taking sides on the issue. "Some board members didn't want to hear it anymore, and just resigned."
For most of 2020 and some of 2021, Middleton explains that many boards met weekly with management, instead of the usual monthly check-in. That was a stressful and uncertain time period, and while life seemed to be getting back to "normal" in the summer and fall of 2021, he notes that by that winter, people—including Middleton himself—began getting sick with the omicron COVID variant. This development caused some board members and residents to recoil in fear of yet another lockdown.
That didn't happen, thankfully, and Middleton says that "luckily, we had no board turnover in any of our buildings, but I'm sure there were some boards that were brought to the brink with internal strife. No one dropped off, and while there were a few new board members elected, it wasn't due to any type of coup." Quite the opposite; "There was a lot of cheering for boards," he says, "and for management, too, believe it or not—because I think residents recognized someone was taking care of them, and that feeling kept the boards going."
For Teddy Fernandez, a recently retired teacher who has lived for many years at Tappan Court, a co-op located in Tarrytown, New York, 2021 was the year he decided to run for a seat on the board. The decision, he said, was loosely connected to the pandemic.
"My wife wanted an emotional support dog, so we formed a [virtual] committee among residents to talk to the board about two years ago," says Fernandez, who notes that the co-op only allowed cats as pets. "The board rejected our proposal after a year of work, and we discussed having someone from our committee run for a board seat. Since I was retired, I thought I would do it."
After appealing the decision to county and state regulators, the couple was approved to acquire a dog, and now has a mini goldendoodle. "There hasn't been an issue with the board," says Fernandez, adding that the stress and isolation of the pandemic underscored the couple's need for a canine companion. To date, he says no other resident has approached the board about getting a dog, and there have been no complaints about their pet.
During the pandemic, Fernandez says that Tappan Court encouraged community spirit by offering a shared garden plot on the property, with many residents taking the opportunity to grow vegetables and other plants. And he adds that while the annual meetings have been held via Zoom, the setting this year returned to in-person, open-air meetings in the common courtyard (if it rained, it would have been handled virtually).
Fernandez notes the board has always adhered to all CDC, Westchester County, and state COVID regulations, though as mandates changed, he felt it was important to be respectful of individual preferences. "Now it comes down to people's personal comfort levels," he says, adding that there haven't been any COVID-related confrontations with residents at Tappan Court that he's aware of, and that the sense of community in the co-op remains strong.
"I like working on the board and helping people see others' points of view," says Fernandez, who won his bid for a second one-year term in June 2022.
As Rada looks forward, he says that despite a few issues with disgruntled residents, the majority of membership came together during the pandemic, creating even stronger bonds. Conceding that life will likely never go back to the pre-COVID days, people, he feels, have become more empathetic and sensitive to their neighbors.
"Now that they are able to hang out and socialize together, they appreciate that ability much more than they did in the past," says Rada. "What I and Taylor Management learned from this pandemic is not to take knowledge for granted, and always communicate, communicate, and communicate."
In reflection, Durakovic says the world was placed on hold in the spring of 2020 with many uncertainties. But thanks to management companies, board members and residents banding together for the greater good, he has seen positive changes over the last two-plus years.
"Nobody knew what to do or what was going to happen next," says Durakovic, who has worked in the industry for over two decades. "Once we got out of that phase, we established new norms that created so much improvement [in the properties we manage] in so many different ways."
WB King is a freelance writer and contributor to CooperatorNews.