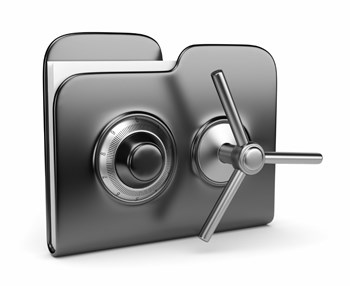 When it comes to ensuring that important association documents are private and secure, board members and managers have to follow specific protocols. However, thanks to ignorance or negligence those guidelines aren't always followed. And problems often occur as a result. To keep on the right side of the law—and to avoid costly legal issues and annoyed owners—it's imperative that boards and managers handle their community's records and documents in a coherent, systematic way, and one that respects both privacy and disclosure.
"One of the most common record-keeping missteps I see is the failure of associations to maintain complete copies of the recorded declaration and all amendments, including all exhibits," says David Bendoff, principal with the Buffalo Grove-based law firm, Kovitz Shifrin and Nesbit. "Another relatively common mistake is the failure to keep an organized and complete set of minutes of meetings of both the board and the association."
There are state regulations that can help boards and managers traverse related issues that at times are cumbersome. Ian Duni, co-founder of the Chicago-based Westward Management, explains that laws exist detailing the creation, storage and access of association records and pertinent documents. These stipulations, he notes, can be found in Section 19 of the Illinois Condominium Property Act (735 ILCS 605/1). "Chapter 13 to 72 of the Municipal Code of Chicago also contains statutes pertaining to owning and maintaining a condominium, but its provisions concerning records and documents are minimal and are controlled by the Illinois state statutes," says Duni.
And while managers and board members have access to this information, confusion still results. "Sometimes, a board of directors may be lax in ensuring that a complete set of records is maintained by the management company along with an appropriate backup if those records are damaged, destroyed or withheld from the association," says Attorney Michael Kim of Chicago-based Michael C. Kim and Associates. "In addition, there should be a clear, written document retention and destruction policy, which would govern the board and management as to the handling of records."
Storage Location
The all-important first step is determining what files and records are considered sensitive, and require secure storage. The second equally important step is determining where and in what fashion the documents are to be stored.
"The Condominium Property Act requires records to be maintained at the association's principal office. If an association is self-managed or professionally managed with an on-site office, records would typically be maintained in the on-site office or other common area of the association," says Bendoff. "Occasionally, records of a self-managed association are stored in a board member's unit. If an association is professionally managed, particularly if there is not an on-site manager, records would be stored at the office of the management company."
Electronic filing is a streamlined approach to record-keeping, but for many associations the cost and time involved presents issues. And while there is a growing movement toward e-based record-keeping, many associations still relay on hard copies. Kim explains that the Illinois Condominium Property Act provides guidance as to the length of time that documents are to be retained.
"The Act requires that minutes of meetings be maintained for the immediately preceding seven years; ballots and proxies for matters voted on by the membership during the immediately preceding 12 months be maintained and that books and records of account for the current and prior 10 years be maintained," says Kim.
While these are sound guidelines, Kim says associations should also consider other time-related factors. "The declaration, by-laws and plats of survey and all amendments thereto should be considered permanent records and should always be maintained and not discarded. Minutes of meetings at which certain critical actions were taken, such as the adoption of an amendment to the declaration or by-laws, should also be maintained in perpetuity."
When it comes to insurance policies, Kim suggests keeping the documents for as long as a potential claim can be made. For liability insurance policies, he advises retaining policies for at least the length of time that the statute limitations for personal injury or property damage claims would run. "In general, that's two years for personal injury and five years for property damage," says Kim. "Ideally, the board of directors should consult with its attorney, accountant and insurance professional to determine the appropriate retention period for the various documents."
A leading issue many association experience is not only redundant files, but files located in disparate locations such as a board member's home or at the property manager's office. This common occurrence can better serve member requests but also often results in confusion.
"Documents must be stored at the association's principal office listed on the articles of incorporation and annual reports. For convenience, additional copies may also be stored in locations like a board member's home, the management office, or a third party agent's office," says Duni. "The actual cost to the association of retrieving and making requested records available for inspection and examination can be charged back to the requesting member, including the costs of copies."
Who Gets Access?
Knowing what documents to file and where they are to be stored are critical to the successful running of an association. Once these two variables in place, there are other considerations such as who can access these sensitive files.
"The Chicago Condominium Ordinance provides that an owner is entitled to inspect the financial books and records of a condominium association. The owner simply needs to make a written request for examination of records to trigger this ordinance. So, associations in Chicago need to review a request for books and records under both the Condominium Property Act and the Chicago Condominium Ordinance," says Bendoff. "Whenever an owner is permitted to examine association records, the review should be conducted in the presence of a board member, employee or property manager of the association."
When it comes to the reviewing of sensitive documents, Bendoff adds that the Condominium Property Act is divided into three categories. The first of which are those requests by any association member, or their attorney, to examine and copy documents via a written request. The second category is identical to the first though the member must state a "proper purpose" for examining and copying the requested records. "The last category is those that an association need not make available for examination and copying, unless otherwise directed by a court order," says Bendoff.
There are records that are not accessible by all board members. These include any record protected by lawyer-client privileges, medical records as well as records protected by the work-product privilege, including records reflecting mental impressions, conclusions, litigation strategy, and legal theory of the attorney or the association prepared in connection with pending or anticipated litigation /adversarial proceedings.
Information obtained by an association in connection with the approval of the lease, sale or other transfer of a unit, is also private. Additionally, social security numbers, driver's license numbers, credit card numbers, e-mail addresses, telephone numbers, facsimile numbers, emergency contact information are off limits.
"The access to documents is controlled in a variety of ways, depending upon how the association is managed. For professionally managed associations, typically the records are made available at the management office, either on-site or off-site, often with a person monitoring the inspection," says Kim. "For non-professionally managed associations, the document access is less formal and may be done at the association property either in a common area meeting room or similar premises."
Disposing of Documents
While there are set protocols for storing documents, boards and managing agents should also be aware that ramifications do exist for the improper handling and/or disposal of files. However, as long as the documents have been stored for the required time period, the Illinois Condominium Property Act does not have a set guideline for disposal procedures.
"The board and its members have a fiduciary responsibility to the association under not only the Illinois Condominium Property Act but also the Illinois General Not for Profit Corporation Act," says Duni. "Therefore, the association must ensure that the records are completely destroyed. Shredding or incineration would be showcasing a good faith effort to responsibly dispose of out of date records. Simply throwing unwanted records into the trash could result in potential liability if they eventually wound up in the wrong hands."
According to Kim, whether documents are electronic or hard copy, the same disposal procedures apply. "There are different levels of sensitivity that would apply to various types of documents. For example, a copy of the annual budget would not likely have the same sensitivity as an individual unit owner's account statement or unit file that contains personally identifiable information."
To err on the side of caution, Bendoff says associations should be particularly careful when handling and dissemination privileged communications with the association's attorney. "Distribution of communications to third parties that are subject to the attorney-client privilege will serve to waive the privilege—that is generally a very bad thing to do. Improper disposal of documents can lead to disclosure of confidential or sensitive information," he continues. "Similarly, premature destruction of records can hurt an association's position if the documents are needed in litigation involving the association."
Due to the frequent turnover on most association boards, issues arise when an incoming president, for example, is seeking files from the outgoing president. In many cases, there might have been an ousting and perhaps the transition is considered hostile. For new board members, or if questions arise from seasoned members, Community Associations Institute (CAI.com) has information to guide board and management companies about document related issues. However, when issues can't be resolved though research and education, board members should turn to trusted third parties.
"While there are various general articles about record retention and handling, my suggestion is that they should consult with the manager, attorney, accountant and insurance agent for input on a document retention and destruction policy and implement such a policy that best fits their needs and preferences," says Kim.
W.B. King is a freelance writer and a frequent contributor to The Chicagoland Cooperator.