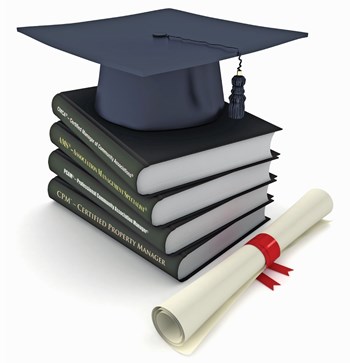 As technology has paved the way for easier entry into many career fields, residential property management has taken on many changes—adjusting for a new generation of professionals from degree programs across the country.
Sara Kennedy, CPM, a broker/manager with Marian Realty in Chicago, has been in the property management field about four years. She believes that professional development is definitely an important part of the learning curve. As such, she serves as the vice president of chapter activities for the Institute of Real Estate Management, IREM's Chicago Chapter #23.
In the short time she's been involved technology has exploded on the scene. "I've only been in the field about 4 years, so I can't speak to what it used to be like," Kennedy says. "I only know it now, with computers, cell phones, email, web pages, etc. I think that technology has made property management more intense and challenging, and simpler at the same time. Simpler, because we as property managers have access to our email/telephones 100% of everyday, and are available to our clients on those terms—everything is basically at our fingertips," she says.
In everyday life, computers/online banking, websites all make our lives better in a way that we can automate almost everything, Kennedy explains.
Technology also brings its unique challenges to the field, Kennedy continues. "We are available 100% of everyday and it is hard to live up to the expectation that we can answer clients and fix problems immediately after they contact us. We are held to a difficult standard, much like the rest of the professional world. It makes trust between client and manager the most important element," she says.
By contrast, Jeff Klarfeld, president of the Greater New York Chapter of IREM, is a veteran. He says that in previous years, most property managers joined the profession from other career paths. In fact, Klarfeld says that he himself chose property management as a second field.
"Some people were in real estate sales beforehand, but the vast majority came from things unrelated," he says. "During the time that I joined the profession, many were joining as the result of the economic downturn on Wall Street and the banking industry."
But over the past decade, the property management business has changed a lot, especially with the use of newer and faster technology, as well as academic degree programs. Many industry veterans, including Klarfeld, feel that a significant generation gap exists between property managers currently working in the field and young professionals just entering it.
"The population we are servicing today is very different," Klarfeld says. "Even 10 or 15 years ago you had buildings using third party companies to provide managers for them. Today you find younger people on these boards who want to be much more involved in the process."
That increased expectation of round-the-clock communication and availability is a two-edged sword, say some industry pros. While everyone is more connected and involved, that connection and involvement can make the job of managing properties more time-consuming, even all-consuming, in some cases. "You didn't used to be as connected all the time," says Klarfeld, "but now it's nonstop."
More Education, More Credentials
Maureen Lambe, executive vice president of the National Apartment Association (NAA)'s Education Institute, agrees that the residential property management sector has changed.
"Over the past ten years, you see more and more that people in property management are required to have at least a two-year degree, if not a four-year degree," she says. "At one time, the industry didn't have that educational requirement."
Lambe adds that although these degree requirements may not necessarily have to be focused in residential property management, managers are encouraged to take advantage of resources, such as the NAA's Education Institute and others.
The institute features various certificate programs, including the Certified Apartment Manager (CAM), the Certificate for Apartment Maintenance Technicians (CAMT), the Certified Apartment Portfolio Supervisor (CAPS), the Certified Apartment Supplier (CAS) and the National Apartment Leasing Professional (NALP).
"These programs are designed for people who work in the industry," Lambe says. "We conducted a job task analysis to see what skills are required for good performance in the industry nationally, and developed a curriculum around those standards."
IREM is headquartered in Chicago and has over 80 chapters nationally, as well as chapters in Canada, Europe and South America. The organization runs programs to educate its members and awards them designations upon completion. The designations include Certified Property Manager (CPM), the Accredited Residential Manger (ARM) and the Accredited Commercial Manager (ACoM), according to the IREM website. The courses include asset management, maintenance operations, human resources, risk management and budgets. IREM also has a young professionals organization, IYP, to enable more student outreach.
Patricia L. Ranger-Salinski, CPM, vice president/education of IREM's Chicago chapter, says that certification is a form of accountability. "It showed the people who were interviewing me and hiring me that I had taken certain courses," she explained. "Not only had I taken these courses, but I followed through and I completed them. So I think that type of a certification is extremely valuable and it sets a standard that other people have to match."
"Having the CPM designation helps build that trust," states Kennedy, who is herself a certified property manager. "It says to the client that I as a property manager know what I am doing, and I will uphold the ethical standards to do only what is in your best interest. I think it is a huge benefit to hold the CPM designation."
Members of IREM's program can complete their course work in a year and a half, and many colleges and universities have also begun to offer classes in property management as well, says Lambe. Virginia Tech, Ball State University, University of Northern Texas, University of Georgia and Drexel University all have degree programs for residential property management.
These programs offer courses that focus mainly on advanced residential property management, marketing, accounting, financial management, management and maintenance. Many of these degree programs partner with apartment management companies so that students can complete internships during their degree program. "Every student who goes through one of these receives a job offer if not many," Lambe says. "Many of these colleges have career fairs when students are ready to graduate."
The Community Associations Institute (CAI) serves as another organization for property and neighborhood association managers to reach out to. CAI offers a wide range of instructional courses for the profession, primarily through its Professional Management Development Program (PMDP). The PMDP includes courses in the essentials of management, risk management, financial management and leadership.
CAI-Illinois President Andrea Sorgani is the owner and president of ALMA Property Management Services, Inc. located in Schaumburg. She has been in the property management field since 1976 and holds a bachelor of science degree in social welfare.
CAI has a track for all involved in managing a community association, says Sorgani, from basic courses in educating homeowners on fundamentals such as "what is a condominium, townhouse, community association?" to how to prepare a budget to what is a reserve study and why every association needs one. Coursework also examines the basics of the Illinois Condominium Property Act, how the act impacts the management and operation of a community association, along with any impact on an association's governing documents (the declaration, bylaws, rules and regulations), she says. "There are courses to teach a board member on how to be a board member; how to run an effective meeting; how to deal with difficult homeowners and difficult situations; and why to hire a professional management company," Sorgani says.
Knowledge is power, and it's a confirmation of what you know, says Sorgani, but "As a property manager, you can never learn too much. There is always something new to learn. There is always someone who has experienced something that you have not, and from whom you can learn."
The value of education, she says, is that it opens your mind to accept new thoughts, new concepts, and different ways of thinking, analyzing and executing. The more knowledge and its applications in the day-to-day working with community associations, the better the management. And better management means the community will be better off financially and physically, Sorgani says, which in turn maintains values, keeps assessments reasonable and raises the bar in the professional management field.
The intent of Illinois' Manager Licensing Act is just that: to raise the bar on the profession, she says. First and foremost, the act provides a level of professionalism; creates a brotherhood/sisterhood among community association managers and instills in them a higher sense of pride in their industry and choice of career; provides a tracking mechanism to weed out those who are not fully abiding by the ethics and standards expected of the profession; allows community associations to have some guarantee that the company they hire has fulfilled certain educational, experience and ethical standards; and seeks to protect homeowners and managers from unethical or illegal practices if managers fail to follow the requirements of the state and the profession as a whole.
"Many professions require licensing," says Sorgani, "and it is about time that the community association industry will require the professionals within this industry, who handle millions of dollars in cash, are responsible for the physical maintenance and upkeep of billions of dollars in property values and who are responsible for the most important asset/place in an individuals' life—their home," to also be licensed.
Regardless of whether a person comes to the field of property management directly or from another profession, education goes hand-in-hand with on-the-job expertise to make both the manager and his or her properties successful.
Rosie Powers is a freelance writer and reporter living in Chicago.