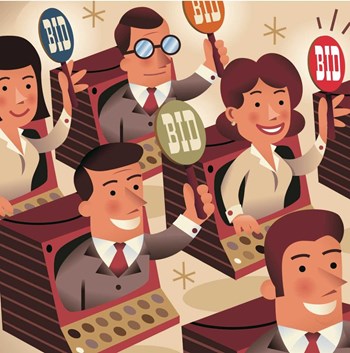 It's only logical that if something goes wrong and needs fixing at a condo or HOA, it's the board or manager's job to do some due diligence and choose the contractor that makes the most sense for the community's needs and budget.
This is usually done by gathering bids from several different vendors. After all, if you don't compare the price and terms quoted to you by one vendor to those quoted to you by his or her competitors, how will you know if you're getting a fair price, or being taken advantage of? Understanding how to navigate the bidding process—whether it's a manager doing it or the board itself, in the case of self-managed communities—is a crucial component of maintaining an HOA's overall financial health.
Managing Bids
Robert Meyer, director of engineering services for FirstService Residential of Illinois in Chicago, says the company works very closely with the board leadership in assisting them as needed in the bidding process and final decision.
"We do all the legwork in procuring the bids for any services the association would need, and then pass along the bid analysis to the board of directors," he says. "The bid analysis breaks down in summary form the bid criteria for comparison. It is then the board of directors that makes the final decision on whom to use."
Nicolas Marin, certified manager of Wesley Realty Group in Evanston says that on a general basis, the board is directing what they are looking for or what type of project they would like to see accomplished.
"Board members are always welcomed to suggest any vendors that they may have worked with personally or were recommended to them," Marin says. "Most of the times, I, as property manager, contact the contractors/vendors to solicit the bids for projects/repairs/work needed as directed by the board. Depending on the size, complexity or projected cost for the project, I will meet with the vendors on-site to make sure that all vendors/contractors are bidding on the same scope of work as it is the most important part of a bidding process."
Marin says over the past 20 years of being in the property management business, the firm has developed relationships with hundreds of vendors, suppliers and contractors.
"We do not rely solely or exclusively on any one particular company or individual. These professional relationships are based not only on the price, but mainly on the quality of work, honesty, professional opinion and time of response from our vendors," he says. "Obviously the satisfaction from our board and association at large is the number one criteria when reviewing the work done by the contractors we are working with."
New vendors are often found from word of mouth, recommendation or exhibitions such as The Chicagoland Cooperator'sannual Expo at the Navy Pier. This one-of-a-kind event will run from 10 a.m. to 4:30 p.m. on October 28th and provide networking and educational opportunities for board members, managers, unit owners and shareholders, and real estate professionals.
Kim Merrigan, president of McGill Management, Inc. in Arlington Heights, says vendors come from various sources, sometimes trade shows, sometimes word of mouth from other managers, vendors or boards, and also from direct solicitation on their part—good old fashioned marketing.
"The Internet has been an amazing tool for managers and board to locate specialty vendors—those types of contractors you just don't use very often, so there isn't a rapport with other managers or associations, and they may not attend trade shows because this isn't their specific market," she says. "I go online to locate vendors, send bid requests, check references, determine the specifications, review the products needed and create the request for proposal (RFP)."
What Can We Do For You?
Vendors and contractors go to great lengths to establish a good working relationship with large, established property management companies.
"While we hold all vendors to a very high standard and require that they produce a superior end product for our communities," Meyer says. "And, our preferred vendors and contractors work with us on several different projects throughout any season. If these projects are a large dollar amount, we will require an engineer or architect to write the specifications for the project. We then conduct the bidding process with known contractors to develop and present an analysis form and make a suggestion as to who to use."
Lauren Hundman, property manager for Owl Management, LLC in Chicago, says it's important to create an exact scope of work to ensure all bids are on line with each other as much as possible.
"For something as simple as painting the hallways, are the ceilings included, are the doors included, are the baseboards included? Then the bids can be collected based on the entire scope," she says. "We have a select group of vendors we work with and sort of know who can get things done in crunch time and who work well."
Three is a Magic Number
For large capital expenditures such as a roof replacement, masonry, deck or large improvement Marin says he would usually collect between 3 and 5 bids. For smaller projects or repair, he may only ask for two bids. "It depends on the work being done, its complexity, projected cost and size," he says. "I don't think there is any mistake in getting only two bids for smaller projects. In the event, the two bids are significantly different, I will always get a third bid. However, pricing comes with experience and handling similar projects over time."
As a rule, Meyer says his firm will always seek out three or more bids, and many times five or more bids may be requested depending on the scope of the project.
"What's important is that all bidders work with the same specifications otherwise the proposals will come in different, skewing the whole bid process," he says. "Having only two proposals is not necessarily a mistake but doing so could lead to a missed opportunity for the board of directors since it is just as easy to procure three bids as it is two."
Merrigan likes to send out requests for six bids so she always ends up with no less than four. "Getting two isn't recommended; we always prefer more for comparison, but when it's not possible due to it being maybe a smaller specialty job few are interested in, the board can go with two," she says. "In these cases, I do however like to produce the 'declines' for the board to review so that everyone is clear on the attempts made—and the attempt to get 4 to 6 should be made."
Rules & Regulations
While some associations' governing documents outline procedures and protocol for obtaining bids, it is not the norm. In Chicago, some governing documents mandate gaining competitive bids when the project is over a certain dollar amount. These vary based on a variety of factors.
In certain situations, bids aren't warranted, but a board needs to be cautious when making such decisions. Merrigan says the only time she will hire someone without asking for bids are on base contracts or warranty work. For example, you may have roofs replaced under contract; they come with a warranty as long as you only call back the contractor that installed them. That contractor may find something that wasn't necessarily a defect (damage from a storm or other discrete event is one example) you'd want to hire them so as not to void the remainder of the warranty.
Meyer adds hypothetically, if a management company is under a service contract with a mechanical contractor and an integral component of the HVAC system fails, the best practice is to use the existing contractor to make the repair.
Writing it Down
The bid process is handled through an RFP, which, in essence, is an outline of all the specific specs for the job. For larger contracts/jobs, the vendors are normally invited to board meetings to give a presentation and support their pricing and bid structure.
"If the RFP is coming from a manager it will probably be in layman terms," Meyer says, "whereas an engineer/architect will have experience developing numerous specifications and RFPs and theirs will be a more detailed and technical. Regardless, we advise that the communique should always direct the bidder to consider all aspects of the project. The more clear and concise the RFP is, the less chance there is for unforeseen delays in the project."
According to Meyer, if the manager submitted the bid then they would be the one receiving them back. If an engineer/architect sent them out they would receive them. All parties would typically prepare an analysis to summarize the proposals by the criteria specified, which would then be given to the board of directors for a decision.
"In some cases, in-house experts at a property management company may also review and provide counsel to the board on bids," he says. "For example, FirstService Residential's energy management division FS Energy may look at bid for renovations tied to improving energy efficiency or our Engineering Division may review bids for service redundancies and cost saving opportunities," Meyer says.
Avoiding Conflicts of Interest
In the event a board plans to do business with a current board member or with a contractor in which a board member or a member of a board member's immediate family has 25 percent or more interest, the Illinois Condominium Property Act, in Section 18.a.16, clearly outlines the steps required prior to entering into such a contract.
"We will guide the board through that process and also will recommend to the board that the board member abstain from voting, or in some cases recuse him or herself from the discussion," Marin says. "The lowest bidder is not always in the best interest of the association. When a bid is 'too good to be true,' I usually contact the contractor to meet with him and review the bid on-site to make sure that the scope of work is well understood from the contractor's point of view."
Some contractors have a higher standard of workmanship than others; that usually comes with a higher price tag, but can also mean the job will be done with more attention to detail, and/or higher-quality materials and methods. Some projects will require a high level of workmanship and experience that some contractors simply don't have. Sometimes boards are willing to pay the difference, some aren't.
Regardless of which company is awarded the bid, getting a list of referrals from the contractor is prudent for all associations. A good tip is for boards to look for referrals that outline the contractor's successes in the specific area of work the project will cover. Having your engineer or architect review the bids will also be helpful in weeding out the unrealistic ones.
"At the end, our job as property manager is to solicit the bids, present them to the board and provide the board with recommendations but the final decision lies in the hands of the board," Marin says.
Keith Loria is a freelance writer and a frequent contributor to The Chicagoland Cooperator.