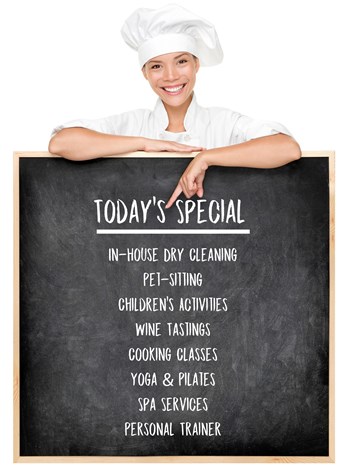 In major US cities these days, the decision to live in one co-op or condo building versus another often hinges upon the style of living afforded in a particular property. Whether it is defined partly by a full-scale gym and spa, a children's study room/library, a community room or another common space, the physical amenities of a building help create the lifestyle people get when they buy an apartment.
High-end condo buildings and developments tout their luxe amenities: swimming pools, wine cellars, screening rooms, and much more. Brick-and-mortar perks like these are ubiquitous in both newly-constructed properties and vintage ones. But those aren't the only kinds of amenities on the upswing; service-based amenities are another popular way to raise a building or HOA's profile, attract new buyers, and boost resale prices. Such activities also can help build cohesiveness in the community, by bringing residents together in events where they mingle and get to know their neighbors.
At Your Service
The idea of buying into certain amenities in a building—or creating new amenities for one's own building through a board-appointed committee and/or specialized vendor—is liberating to many urbanites and suburbanites alike. And so service-based amenities and/or planned activities, whether they are yoga classes or spin classes, massage sessions or outings, can help busy residents make the most of their time while also giving them opportunities to get to know their neighbors.
While the ubiquitous white-gloved doorman is a given for any top-notch residential building in Chicago, New York, or Miami, how that doorman functions has changed over time. For all buildings, a doorman is a first line of security, also opening the door and carrying bags into or from the building as part of his or her regular duties.
At the very least, having such a pro on staff, dressed appropriately and with a friendly demeanor, is a must for many buildings. But the scope of a doorman's duties should be clearly defined to avoid confusion over what tasks are expected of this front-line representative, so to speak, of a residential building. Some buildings extend the doorman's duties to quasi-concierge services, including accepting parcels for residents, and holding them or delivering them to apartments. (While expected in one building, package delivery might be fraught with too much liability to suit the board of another—so your own results may vary.) In some cases, doormen have been expected to even respond to late-night calls from residents ranging from food delivery issues to an elderly resident's call to help her get back into bed after she fell out. While such service is perhaps impressive, it can also be problematic from a legal/liability standpoint.
"In some buildings, that's important for seniors—to be able to have the doorman come put them back in bed, if they fall— rather than calling 911 and having them break down the door and spend the money on EMTs," says Christian Steiner, owner of Home Instead Senior Care, a nationwide in-home care and support provider for elderly residents, based in Omaha, Nebraska. Steiner himself does not recommend such a hands-on approach, because the vast majority of doormen are not qualified medical professionals—geriatric health issues are generally best left to professionals in that specific field.
Changing Times
Comparatively speaking, industry experts say that services offered today through residential buildings have increased by about tenfold from 20 or more years back. The change has been driven by demand. Working or retired, many condo and HOA owners are active, busy people, and so a comprehensive approach to service and lifestyle makes sense to them. The growth of both physical and service-based amenities has arisen from residents' need to make the most of their time in interesting, fun and sociable ways.
One physical amenity—the in-building exercise room—is a prime example of how such offerings have changed over time. For many building residents in Chicago and elsewhere decades ago, simply having any kind of in-house gym, however modestly outfitted, was considered a perk. And these days for some small buildings, a treadmill or two and some resistance training machines will do the job once they are placed in a small room designated as the building's informal 'gym.' But much more is expected of newer, larger, renovated (and pricier) properties. More often, residents expect to have a full-scale gym and spa, with associated services, as part of their building's amenities.
"Amenities are the hottest button topic in good and bad economic times. People need to make sure the building they live in is a brand," says Michael Fazio, co-founder of LIV Unltd (formerly Abigail Michaels Concierge), a 16-year-old concierge service based in New York City. "Now, whatever the offering—a spin class, boot camp, or body sculpting session—it has to be the best on the market."
According to Joshua Feldman, a property manager with Chicago-based Community Specialists and the former project coordinator for Lake Point Tower condominium, "Our residents are paying a certain amount of money, and they want and deserve the best, so we have to keep reinventing ourselves to stay on top." An aging or shabby weight room, or a down-at-heel community lounge won't cut it, he says. "You have to stay current."
One example of this is Alta at K Station on West Kinzie Street in the Fulton River district. The condo tower features many amenities for residents, including a fully-equipped, state-of-the-art fitness center, a residents' lounge, wireless cyber café, outdoor spa, grilling area, an outdoor landscaped courtyard, pool, private cabanas, and a party suite.
According to an article in The Chicago Tribune, Alta at K Station's two towers link with K2 Club, a 48,000-square-foot amenity deck that boasts an indoor sports court. It also includes two work-out areas and a 22-seat home theater.
Planning Events
Creating more of a cohesive sense of community in a building is one goal of the amenities package a building now offers residents.
"The building has all sorts of social aspects to it," says Randy Fifield, chairwoman of Fifield Realty Corp., developer of Alta at K Station. "We'll have a Super Bowl chili cook-off, March Madness basket-shooting contest, you can buy candygrams for the holidays. We are also the first pool open in downtown Chicago. We open April 14th, and most pools don't open until May. We also do a polar bear plunge, which is very popular. We're constantly thinking of fun things for our residents to do, especially during the winter months. Midwest winters can be a real drag."
"Now they want to have squash lessons, swimming lessons, and many more programs than in the past," says Stacey Eber, managing director for Luxury Attaché, a concierge service based in New York City and operating in several other major US cities. The company provides hospitality staffing, full-service travel and concierge services and event management for residential buildings. The firm's focus is in helping residential buildings provide programming for residents, and in advising them on how to best utilize existing building space to the greatest residential benefit.
"Physical space is one thing, but activating that space with programs is more important," says Fazio. "People in the market are pursuing a lifestyle. Space can be repurposed — an unused storage room can become your screening room, making it an asset to the building."
Smaller spaces can be renovated for simple but impactful purposes. For example, a yoga studio requires very little special equipment and could be the most beneficial thing for residents needing exercise, especially during those long, dark Midwest winter days. Informal gatherings for wine tastings, cooking demonstrations/ tastings, readings/signings of popular books, and other events now can be part of the offerings of living in a residential building. It is a question of what residents want to pay for, and what interests them. Some places have on-demand spa services for residents.
"We have constant requests for yoga classes. Almost every single building has them," Eber says. "We handle all the RSVP work for those classes. If RSVP attendance is low, we would consider another type of offering."
Making Space
So what should a board should consider in looking to make these types of services available to their residents? And how can a building's residents use available common space to their best benefit? Experts say this can be done by having someone assess the available space, how it's currently being used, and the community's needs.
First, find out if the amenities space is being used consistently. If only a handful of residents ever step foot into the space, it might become a stronger asset to the building if it were renovated for another use. An amenities consultant will visit a building or property, survey residents and inspect the space to come up with ideas for the community. Perhaps a seldom-used space could be used as an art space for residents, where arts and crafts classes would be regularly held. Or an unused room might morph into a musical performance space, or a well-equipped family activity room.
To begin to tailor programming to residents' needs, industry experts recommend forming a social committee to lead the effort to define such programming or refine existing programs. Polling residents on what programming they want is also important. After these steps are taken, establishing a budget for that programming must be done — if the programming is for movie showings in a 30-person screening room, what will be paid for, who will benefit, how it will be paid for and by whom are important things to determine before programming is put in place.
A corner of the laundry room or another space in the building could get a lot of traction with so-called "pet parents," when outfitted with a dog bath for their pooches. With such a small, relatively inexpensive amenity, dog-owning residents can perform a small but needed task after walking their dogs — washing off their paws, so they don't track dirt all over the apartment (or the lobby and common hallways). Some buildings even have doggie playrooms, or an outside dog park on the property. And of course, many vendors cater to needs of pet owners by bringing their services to the building's residents through dog walking, pet sitting, pet grooming and more. "If you have a pet amenity, you definitely get traction," Fazio says.
One of the newer uses of common area space in such buildings is equipping a demonstration kitchen. In such a shared space, the building can host talks and demonstrations by noteworthy chefs and others, as well as give residents access to commercial-scale equipment for parties and other functions. "Everybody loves to learn how to prepare a certain dish," says Fazio. "For one of our properties, they have two chefs or mixologists visit per month. They give presentations on things like 'Three Tips On Making The Best Burgers, or How To Make The Best Barbecue Sauce.'"
Obviously, offering new programming or a new space for activities can come with some legal concerns. If a space is designated for children, who will staff it and how will it be paid for, or what rules will be in place so liability is on parents, rather than the community, are some of the many considerations. Whenever creating new programming or outfitting common space anew for activities, these and other liability questions must be asked of your building's legal counsel and insurance provider. On-site child care might be deemed essential by one building's board and OK'd by their attorney, while another building might want to avoid any potential pitfalls of caring for children in a common space. It's a matter of risk versus reward, and a given building's needs and expectations.
While how much cachet service amenities add to a building's overall resale values is hard to quantify, experts say there's no question these amenities can boost sales prices. They also can make an apartment much more valuable for some buyers.
Jonathan Barnes is freelance writer and frequent contributor to The Chicagoland Cooperator.